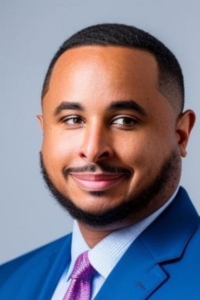 elearning specialist,
DMH + UCLA PREVENTION CENTER OF EXCELLENCE
Dr. Charles Martin is a distinguished educator with a focus on e-learning, curriculum design, and language education. He earned his doctorate in Educational Technology from the University of Florida, centering his research on language acquisition, leadership, and e-learning. Dr. Martin has partnered with esteemed organizations such as the United States Army, Microsoft, and Discovery Collective, designing and implementing digital learning experiences for students, educators, and clients alike. He has contributed to instructional design and teaching efforts at the University of California, Riverside, and Morningside University.
Dr. Martin possesses a unique talent for crafting compelling curricula and delivering engaging learning experiences that cater to diverse learners. He holds a BA in History and an MEd in Middle Childhood Education from Georgia State University, as well as an administrative certificate in School Administration from the University of Southern California. Outside of his professional life, Charles cherishes spending time with his wife and daughter and exploring new destinations through travel. He is excited to join UCLA as an e-learning specialist and eagerly anticipates further advancement in his career.