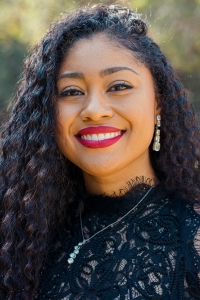 Curriculum Developer
DMH + UCLA PREVENTION CENTER OF EXCELLENCE
Christina Harrison is a Licensed Clinical Social Worker and received their Master in Social Welfare degree from UCLA. Social welfare posits that an individual's well-being and growth is inextricably connected to the overall wellness of the communities and organizations they are a part of, and vice versa; this framework perfectly captures Christina's approach to work, as well as life. Having first-hand experiences about the challenges of operating in the "in between" spaces, Christina utilizes their lived and professional expertise to serve QTIBIPOC+ folx at all intersections of their identities, via second & third-wave behavioral therapies.
Prior to joining the COE as a curriculum developer, Christina worked at a wide variety of settings, including community mental health clinics, schools, academic training centers, hospitals, in private practice, and done project design/implementation/evaluation for the Department of Mental Health; Christina has also worked in the tech industry, providing coaching & consultation in creating trauma-informed systems for companies working in digital safety. Christina is a firm believer that change needs to simultaneously occur at a systems-level in order to sustain individual healing and growth; as such, Christina furthers their systems-level work by serving as an intergroup dialogue facilitator in response to marginalization and race-based trauma.
When Christina isn't on the clock, you can find them recipe testing baked goods in their kitchen, convincing themself that there's no such thing as too many plants and subsequently becoming overwhelmed when they get home and have to figure out where to fit another plant, and – most likely on the ground, hurt laughing – re-learning how to roller-skate, which is much more challenging than they remember it being.