The UCLA Division of Population Behavioral Health trains clinical, non-clinical and peer professionals who are currently serving or interested in working with military-connected populations.
A Population Health Approach to Military Family Readiness, Well-being and Resilience
Consistent with the 2019 National Academy of Science Report Strengthening the Military Family Readiness System for a Changing American Society (2019), the Division's FOCUS (Families OverComing Under Stress) resilience program uses a population health framework for supporting Military family readiness, well-being and resilience .  FOCUS utilizes a tiered promotion and prevention approach and recognizes that individuals exist within groups that interact with community systems and resources.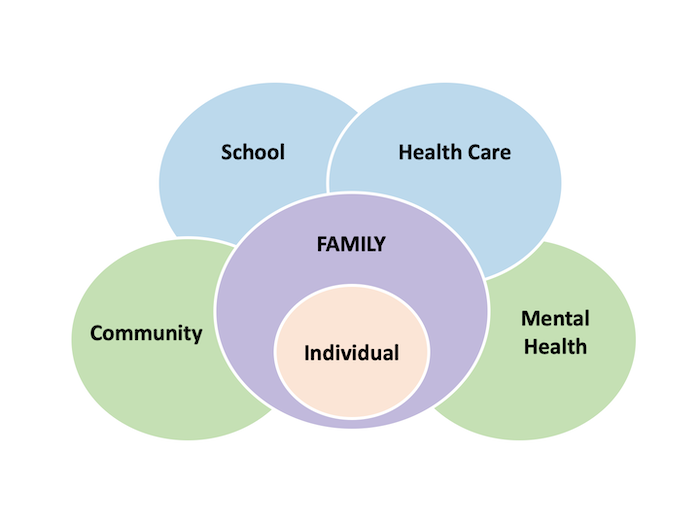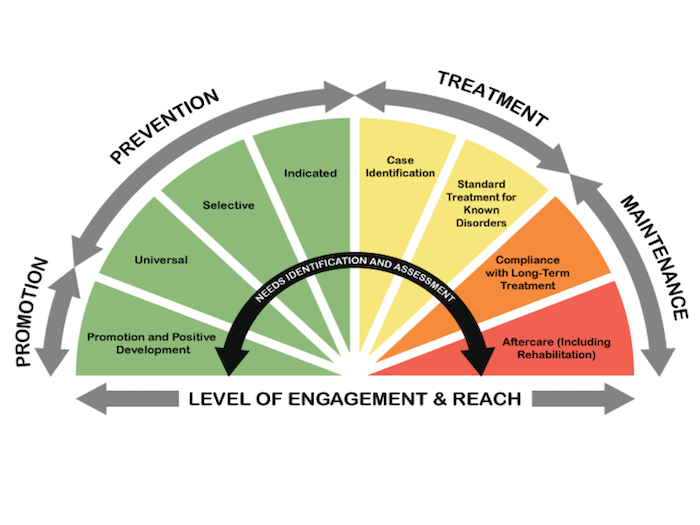 Developing FOCUS
FOCUS is a military family readiness program currently implemented for the Department of Defense. Designed to strengthen family resilience, the program was adapted from the developers' evidence-based practices, which had been found through randomized control trials to improve parenting, family functioning, and youth and parent outcomes.
The common-core intervention elements in FOCUS were defined through expert consensus on shared contributing structures, processes, and other elements (Beardslee et al., 2003, 2007; Layne et al., 2008; Rotheram-Borus et al., 2004; for review see Lester et al., 2016). These elements were customized, piloted, and manualized using a community participatory methodology with military providers, families, and leaders that informed intervention tailoring and implementation design ( Beardslee et al., 2013; Lester et al., 2010; Saltzman et al., 2011).
Core Elements of FOCUS:
Evidence-based assessment and real-time personalized guidance
Context-specific education, such as trauma-and resilience-informed education, positive parenting and developmental guidance
The development/sharing of individual and family-level narrative communication timelines
Individual and family-level skill development (for such skills as emotion regulation, problem solving, communication, goal setting, managing separation/trauma reminders)
Implementing FOCUS
Between 2008 and 2018, FOCUS services have been implemented for active duty families at 24 installations with consistently high levels of engagement and participation across the continuum of tiered services, as well as high adherence by families within the multisession models. Follow-up evaluations of the multi-session family intervention and its adaptations have demonstrated significant and sustained individual and family-level outcomes up to six months later. In adults, these evaluations showed reductions in depression, anxiety, and PTSD symptoms; in children, they found decreased internalizing and externalizing symptoms, improved prosocial behaviors, reduced anxiety, and improved coping; and they further found improved family/couple adjustment (Lester et al., 2011, 2016; Saltzman et al., 2016).
Delivered within DoD as a suite of services based on EBP core elements, FOCUS services are offered as a tiered continuum of prevention consistent with a population health model (National Research Council and Institute of Medicine 􀀾NRC and IOM􀁀, 2009b). These services range from universal to indicated prevention services, and they use multiple platforms to support flexible engagement, screening, and intervention delivery, including educational workshops, web-based/mobile tools, skills groups, consultations, and in-person and in-home teleprevention (video-teleconferencing multi-session family interventions) (Beardslee et al., 2011, 2013).
Improving FOCUS
The quality improvement process embedded in the implementation has informed multiple adaptations of the model based on data monitoring and community participation, needs, and trends. These adaptations have included adaptations of FOCUS for specific family constellations (e.g. FOCUS Couples; FOCUS Early Childhood), context (e.g. FOCUS-Wounded, Ill and Injured) and platform (e.g. TeleFOCUS, FOCUS On the Go) (Ardslee et al, 2013). The adaptation for early childhood delivered as an in-home telehealth platform has recently been evaluated through a randomized trial, which found that it demonstrated improvements in reported parenting stress, parent-child relationships, and observed parenting. It also showed reduced parental PTSD symptoms compared to a web-based parenting curriculum (Mogil et al., in review). Lessons from the large-scale implementation have been translated to reach military-connected couples and families in a range of settings, including school systems, international military, community mental health, and veteran-serving organizations (Garcia et al., 2015; Ijadi-Maghsoodi et al., 2017; Karnik, 2018; NATO, 2019; Tanielian et al., 2018), providing an example of the relevance of this approach across multiple systems.
Learn more about the Population Health Approach.
Training in FOCUS Intervention Models
Recognizing that individuals in military-connected families interact with various systems, FOCUS Family Resilience Training begins with the immediate family unit. The structured multi-session psychological health prevention program isdesigned to reduce psychological health distress and enhance family level resilience. FOCUS has been adapted to meet the needs of parents, couples without children and wounded, ill and injured service members and their families.
Delivery of FOCUS services requires formal training in the model as well as ongoing model supervision through certification. The certification process consists of four components: FOCUS Introductory Training (FIT); Core Model Training (CMT), including 6-8 post training modules; and the provision of family resilience training to ten families under the supervision of a FOCUS Master Trainer. When these components are completed, the provider completes the certification application which is reviewed and approved by a FOCUS Master Trainer.
FOCUS Introductory Training is a web-based curriculum that provides an overview of FOCUS history and services, and an introduction to foundational education on relevant family topics (e.g. child development, family dynamics). Take the free introductory training
FOCUS Core Model Training provides detailed instruction begins with the FOCUS for Families mode. Upon completion of the two-day family model training, providers are eligible for additional certification in the FOCUS adaptations, including the Family Resilience Training Program, Family Resilience Skill Building Groups, and outreach activities. Providers learn how to deliver the FOCUS suite of services with fidelity. The pedagogy used within the core model training is diverse and includes self-learning, didactic presentations, modeling, and role-plays. Independent thinking and problem-solving skills are emphasized. Subsequent Post Training calls utilize a curriculum designed to augment the core model training and provide additional targeted training for enhanced model implementation.
FOCUS for Families
Consists of eight skill-building sessions specifically designed to help the entire family unit, including military families, wounded, ill, and injured Service Members and their families, stay strong and supportive of each other during stressful times or transitions, such as loss, divorce, medical trauma, and family member separation
FOCUS for Couples (Resilience Training and Intensive Retreat Model)
FOCUS for Couples can be implemented directly with individual couples or within the retreat setting. This evidence based model has been shown to improve relationship satisfaction, cohesion, mutual care, and communication, through skill building in core skills in the context of the couple's unique story.
FOCUS Family Resilience Training – Early Childhood
FOCUS Family Resilience Training – Early Childhood, emphasizes secure attachments, caregiver reflective functioning, early development, learning and self-expression through play and behavior management.
FOCUS Resilience Skills Groups – Children, Teens and Adults
FOCUS Skill Building Groups recalls that individuals exist within groups that interact with community systems and resources. The groups provide an introduction to the key skills taught in FOCUS resilience training in the context of systems beyond the immediate family unit or couple dyad. These interactive groups are generally 90 minutes in length. The target audience can be flexible from Unit member participation to parents, families, or children in specific age groups (school aged children, teenagers, parents, or entire families).
FOCUS Resilience Classroom/School Based Curriculum
The School Based Curriculum (SBC) was developed in response to growing awareness about the long-term negative impact on children of early stress and trauma. Consistent with public health approach and the FOCUS suite of services, the curriculum is a convenient way to reach a large number of children and their parents. The curriculum follows a 3 by 3 modular format to allow flexibility for those children being served, and which features three core resilience skills each having three potential sub-sections.
Training Community Members, Peer Navigators, and Providers
FOCUS Peer Resilience Skills Training
Provides peer navigators and other professionals with education and strategies for connecting with veteran family members and nurturing a professional relationship with them. The training also provides instruction on how to teach simple skill-based strategies in the areas of emotion regulation, problem-solving, and goal setting. This training is designed to improve veteran peers' ability to build trust with veterans and their families while providing simple-to-use tools to foster strong family bonds and build social support.
FOCUS Community Educational Workshops
FOCUS workshops generally cover a specific topic, such as individual or unit-level stress management, developmental reactions to deployment, or other transitions. Presentations are tailored to address topics for any stage of deployment and are approximately 60 minutes long. Providers are trained in the core components and content of this service to include relevant psychoeducation topics for various audiences. They are the subject matter experts who provide education and skills to address group level needs.
Train the Trainer Model
The UCLA Division of Population Behavioral Health (DPBH) has a Training of Trainers (ToT) program for agencies that would like to have one of their own providers facilitate select UCLA DPBH trainings.
Supporting Implementation
Recognizing Providers and Agencies
Access a list of certified providers and agencies implementing FOCUS.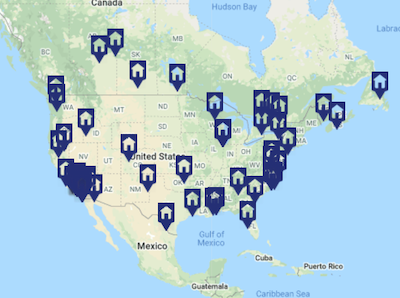 Ongoing Research, Implementation and Adaptations
Division faculty have published articles on the efficacy, adaptation, and implementation of FOCUS and related programming.
FOCUS highlighted in NAS Reports:
Strengthening the Military Family Readiness System for a Changing American Society (2019)
Preventing Psychological Disorders in Service Members and Their Families: An Assessment of Programs (2014)
UCLA Division of Population Behavioral Health Partner Organizations: