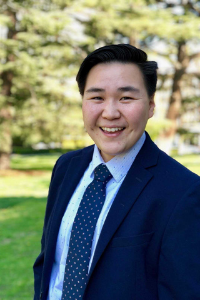 Curriculum Developer,
DMH + UCLA Prevention Center of Excellence
Helen Chen earned their Master of Social Work degree from UCLA Luskin School of Public Affairs in 2018. Helen's past experience includes working with individuals experiencing homelessness, severe and persistent mental illness, substance use addiction, chronic health problems, the LGBTQ community, transitional aged youth (TAY) population, older adults, and immigrant populations. Helen is an avid member of the A Slice of New York family in the Bay Area as they've been slinging pizza pies since 2011. Helen wouldn't consider themselves an expert in any one particular subject. However, if there was any sort of "choose your own" educational research project to be done, they would do it and have done it on the LGBTQ community, worker wellness, and/or the intersection of having multiple marginalized identities. In addition to designing attractive PowerPoints, Helen hopes to continue to be part of systemic change at UCLA through being themselves and creating more accessible mental health learning and training materials for the larger Los Angeles County community, from the ivory tower to across the land. Helen is a Curriculum Developer at the UCLA Prevention Center of Excellence and a social worker by trade.