"It is so comforting to know there is a place to go and relax, and work, and talk to other parents. I am so thankful that my kids have a place to play while we are at UCLA. We are very grateful."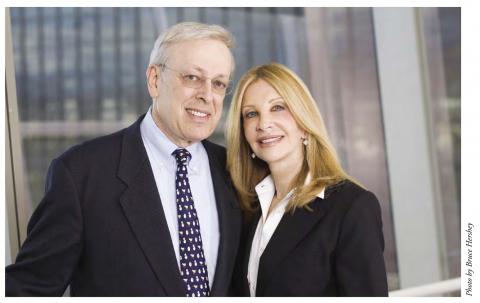 On November 7, 2002, Jane and Marc Nathanson endowed the Nathanson Family Resource Center at UCLA's Neuropsychiatric Institute, which has since grown to be named UCLA's Semel Institute for Neuroscience and Human Behavior and Resnick Neuropsychiatric Hospital. Founded by the Nathanson family through their vision and passion for eradicating the stigma of mental
illness, the Nathanson Family Resource Center was not just a location but a destination to connect parents and families dealing with mental illness to community programs and resources for support.
Founded by Jane Nathanson and directed by Margaret Stuber, M.D., the Nathanson Family Resource Center, with the help of their advisory board, took the Nathanson's vision and established itself as a primary resource center in the UCLA Neuropsychiatric Institute. The center offered a reading library, sponsored a community lecture series, provided family education and community services, and housed several support groups for families dealing with mental illness. Ongoing collaborations with a wide range of Resnick programs positioned the center to provide and respond sensitively to the needs of its families.
Over the years, families have continually expressed their gratitude for the utility and accessibility of the Nathanson Family Resource Center. Whether families are seeking a comfortable couch to rest and catch their breath, resources on where to locate housing for a lengthy hospital stay, information on services for continuing care after discharge, or a welcoming environment to hold support group meetings, the Nathanson Family Resource Center provides families with tools to overcome the challenges that they encounter when a loved one is in crisis.
In 2011, the Nathanson Family Resource Center expanded to bring together a robust portfolio of resilience building programs devoted to our mission of helping families adapt to and overcome challenges. Our services and training programs include a range of successful initiatives for military and veteran families who have negotiated the demands of wartime deployments, combat related mental health challenges, and physical injuries. The resulting UCLA Nathanson Family Resilience Center, with Patricia Lester, M.D. as the Director, continues to advance the commitment of the Nathanson family to help families become more resilient in the face of adversity.