PCIT focuses on building connections and teaching parents strategies for managing their child's challenging behaviors. It improves child behavior and decreases parenting-related stress using live therapist coaching.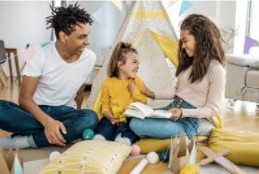 PCIT is provided by the UCLA Family STAR Clinic virtually or in person.
PCIT Sessions focus on:
Understanding the meaning behind children's behaviors
Using effective and positive parenting strategies
Increasing positive and desired behaviors
Enhancing parent-child relationships
Giving effective commands so children will listen
If you are interested in PCIT or would like additional information, please contact: (310) 825-7573 starclinic@mednet.ucla.edu.
Most insurance accepted.
Se Habla Español.